Steel Bar Bow Top Fencing
Standard Bow Top Fencing is an alternative to vertical bar, made with round steel bars and horizontal rails. Solid bar bow Top fencing provides a pleasing appearance to a fencing system in areas where a lower security risk is perceived.
Steel bar bow top fencing with lower heights find particular favor in the fencing of children's school playgrounds and other areas.
Tall bow top railings are popularly used are around school perimeter fencing, perimeters of public parks and gardens, or areas where appearance is of importance.
Bow Top is particularly favored as a cost effective method of enhancing the environment in community projects and housing schemes providing a pleasing appearance with an acceptable level of security.
Construction of Bow Top Fencing:
Manufactured to Boundary Fencing and Gate Services` standard design in the form of welded panels with two horizontal rails manufactured from flat bar or RHS sections welded to infill bars at the intersection points.
Square or round infill bars are available in sizes according to the height of the fencing specified.  Fencing systems can also be constructed to customers specific requirements or BS 1722 Part 9.
The design of Bow Top can be varied to suit the individual. We can include additional bars or interlace the bows to add to it's aesthetic appeal.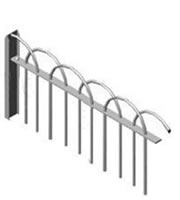 Favored Finishes for Bow Tops: We offer two major surface treatments for bow top fencing panels: hot dipped galv. or powder coated.
Hot dip galvanised to BS EN ISO 1461 after the fabrication process has been completed to ensure complete protection.
Polyester Powder coating can also be specified with a choice of over 100 RAL and British Standard colours. The utilisation of architectural grade polyester powder provides a pleasing appearance with additional protection to the galvanised substrate. Powder coated to BS 1722 part 16 or BS 6497 where specified by the client.