Galvanised Steel Bow Top Fencing Panels: Comparing with PVC Coated and Wrought Iron Fencings
Galvanized bow top fencing panels are the most economic types among all tublar fencing products. Unlike PVC coated fencing or wrought iron fences, the galvanized steel bow top fences are made with simple processing. It has less decorative effect compared with wrought iron fences or pvc coated ones.


Galvanised Steel Fence Panels with Bow Tops(Fencing Panels Type A)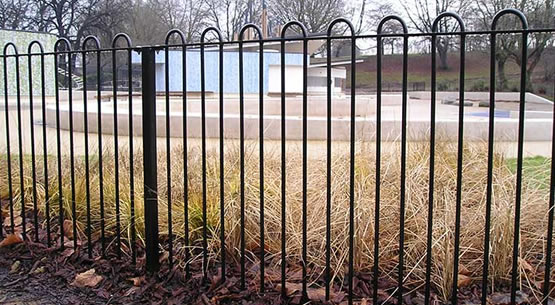 Wrought Iron Bow Top Security Fencing Panels
Galvanised Bow Top Fencing Panels Styles:
- Interlaced Bow Top - interlocked decorative pattern
- Bow in Bow - addition of a vertical bar within the bow, providing an eye-catching alternative.
- Bar in Bow - additional vertical bar within the bow which protrudes through the top rail. This attractive variation provides a striking addition - to the range, which is popular for projects where design is all important.
- Circular hollow section posts, which are completed with a spherical finial.
- Smaller bow set inlayed within the standard bow.
Galvanised Bow Top Fencing Panels Features:
- Tubular construction for extra strength
- Vandal proof connections
- Traditional round top railing design ideal for front gardens
- Galvanized finish as standard to BS EN 1461
- Colour coating available at extra cost, phone for details
- Two heights - 1m or 1.2m
- Other heights available for special orders

Hot Dipped Galv. Tubular Bow Top Fences

Mild Steel Bow Top Fencing Panels withPVC Plating
We can products two types of bow top fencing panels.

Galvanised Bow Top Fencing Panels Type A

Galvanised Bow Top Fencing Panels Type B